Designed for the poultry industry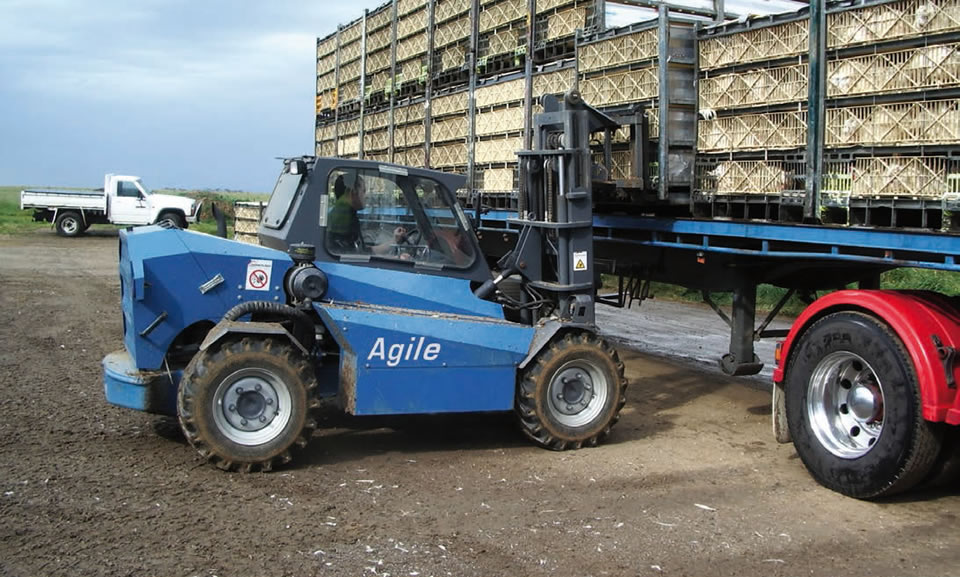 STRONG, FAST, VERSATILE. IN A WORD: AGILE.
The Agile is a dexterous, powerful off-road forklift that has been specifically designed for the poultry sector.
In the Agile, GTC Agricultural delivers superior maneuverability, increased operator safety and improved
animal welfare.
The engine size and power were designed to transport containers as efficiently as possible.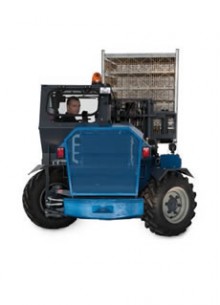 Sized specifically for poultry:
the Agile was made to be used on poultry farms but, at only 1.65 meters tall and 3.30 meters long, it is also ideal for warehouses with low-ceilings or with several floors.
The 3.3 meters turning radius lets you turn in the tight spaces and around columns, and the 47kW (64 HP) Perkins engine provides all the power you need to move multiple containers. Along with performance, the Agile boasts fuel-efficiency and optimum torque for lifting and moving birds and containers.
The Agile has a top speed of 27 km/h, which means containers can be transported rapidly from the truck to the shed and vice versa
Maximum comfort:
the Agile provides the operator with maximum comfort. The driver's seat and simple joystick controls make the work more intuitive than ever. The cab, which is usually open, can be enclosed
(optional) and equipped with air conditioning. The driver's seat is easily accessible and vibrations have been drastically reduced thanks to the shock-absorbing seat suspension. All these features make the Agile extremely suitable for prolonged use, as is often the case when loading animals.
More safety and protection: because the Agile's mast and forks are not aligned with the cab, the operator has 360° visibility. This is a unique and significant advantage, especially when moving and loading cages, which requires absolute precision. The stability, visibility and driving precision cut the risk of damaging containers or other vehicles in use.
Animal welfare: the Agile guarantees superior animal protection thanks to its stability, the shock absorber on the forks and the limited incline of the mast. In fact, the birds in the container are subjected to far fewer bumps and less vibrations – even at high speed transport – compared to traditional industrial or telescopic forklifts.
Daily cleaning and disinfecting: cleaning and disinfecting equipment is a daily order of business on all poultry farms. For this reason, the Agile can be washed quickly and extremely easily every day. High pressure
water and disinfectant are all that are needed to completely sanitise the machine. By design, the inside of the cab and the body can be washed without any risk of damaging the electric system or accessories. The Agile is also equipped with a triple air filter, making it suitable for operators who work in dirty and dusty conditions.